If there is anything I am good at, it is finding a delicious recipe incorporating chocolate. And in my time of cooking and baking, I have discovered that almost anything can be chocolate covered. If you can dream it, you can achieve it! Try out some of my favorites below. Now, trust me, I've put a lot of very serious research into this. 😉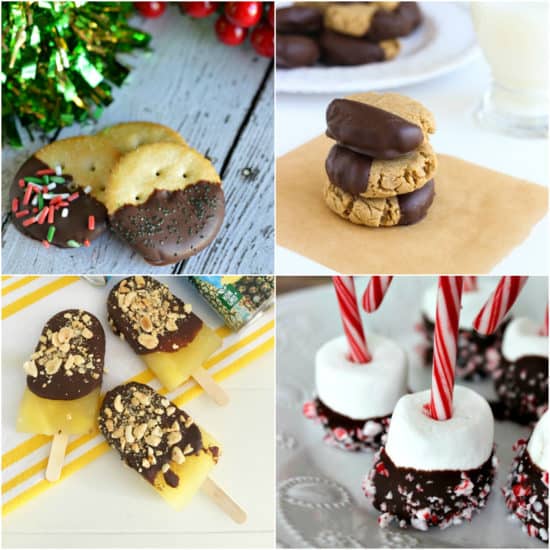 1. Chocolate Dipped Candy Corn Treats
Perfect for Halloween coming up! These will be the star of any class party at your kid's school.
2. Chocolate Dipped Pineapple Popsicles
I love the texture of frozen pineapple! Without having to mash or churn, it has the texture of a sorbet and is perfectly sweet!
3. Chocolate Dipped Peppermint Marshmallows
Ummm…. because, why not? These are also perfect to give as gifts during the Christmas holiday season.
4. Chocolate Dipped Coconut Macaroons
I have a weak spot for chocolate, coconut, and macaroons. They all actually hold a very special place in my heart. I think that is why this was my favorite recipe to try out, and they were surprisingly pretty simple to make- and I have never made macaroons before.
5. Chocolate Covered Graham Crackers
These chocolate covered graham crackers are perfect as a snack for the kids! You can also try putting a roasted marshmallow between them for a spin on s'mores!

6. Chocolate Dipped Ice Cream Cones
A super simple way to dress up your ice cream.
7. Chocolate Dipped Clementines
Who says you can't dip anything but strawberries in chocolate??? These are juicy, sweet, and quickly eaten!
8. Chocolate Dipped Marshmallows
Try dipping mini marshmallows for a fun mix in with your other snacks too.
9. Chocolate Dipped Apricots
The combination of the chocolate and the leathery taste of the apricots creates a fantastic flavor!
10. Chocolate Dipped Ritz Crackers
I LOVE sweet and salty combinations! But, even this one was shocking with how good it was.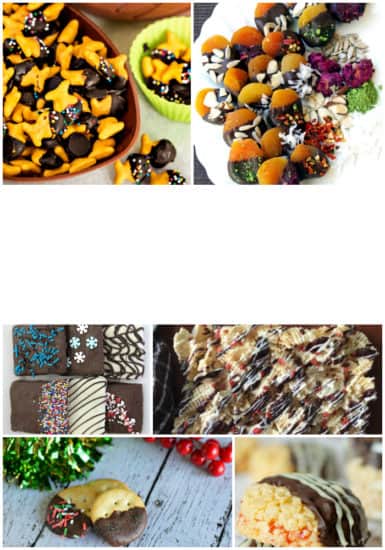 11. Chocolate Dipped Goldfish
This is my kid's favorite version of sweet and salty.
12. Chocolate Dipped Strawberry Carrots
Because chocolate covered strawberries are definitely not over rated.
13. Chocolate Dipped Heart Shaped Rice Krispie
These are so simple to make, and are perfect for Valentine's Day class treats at your kid's school!
14. Chocolate Dipped Peanut Butter Cookies
Most people add a piece of chocolate in the middle, but sometimes that is just not enough chocolate!
15. Strawberry Filled Chocolate Dipped Rice Krispie Treats
This is another one of my favorite treats, and again is much more simple than it sounds!