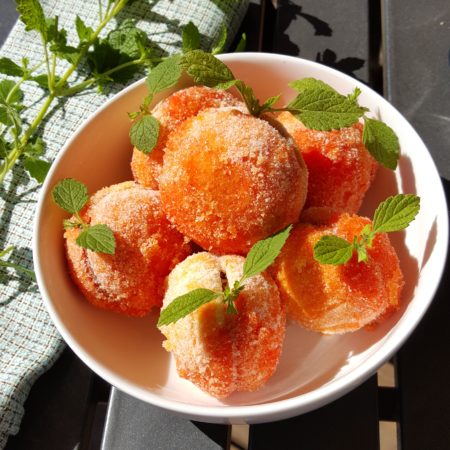 My husband grew up in Ukraine where these cookies were incredibly popular. Lately, he has been missing the food from home, so I thought I'd give these a try!
Traditionally, these cookies are made with a Dulce De Leche filling, but I decided to give it a different taste by using Nutella instead.
I will be the first to admit, when I saw these cookies, I was extremely nervous to even attempt making them, but once I got the rhythm down, it was quite easy and enjoyable to make.
Cookies:
4½ sticks butter, slightly softened but still cold

1½ cups cane sugar

4 large eggs

2 teaspoons vanilla

6 cups all purpose flour

2 teaspoons baking powder
Filling:
One 24 oz jar of Nutella

¼ cup softened butter

1 tsp. Vanilla

1 cup cookie crumbs, crushed

Milk
Topping:
1-2 cups sugar

mint, for garnishing
Yellow/Orange:
1/2   cup water

50 drops yellow food coloring

5 drops red
Red/Orange:
½  cup water

20 drops yellow food coloring

60 drops red food coloring
Cream butter, sugar, and vanilla in a mixing bowl. Add the large eggs one at a time mixing after each addition. Add baking powder. ½ cup at a time, add in flour.
Roll dough into balls about the size of a heaping tablespoon and place onto a cookie sheet. Bake at 350 degrees until slightly browned on the bottoms, 8-10 minutes. Cookies should stay white.
Once cookies have cooled, carve a hole in the bottom of each one. Keep the crumbs for the filling.
In a separate bowl, cream the nutella and butter. Add the vanilla and 1 cup of cookie crumbs. Add enough milk to make the filling creamy.
Pipe the filling into the centers of each cookie, and place two cookies together.
Once all cookies are put together, get the dye ready. In two bowls, add ½ cup water. Starting with the first one, add 50 drops of yellow dye and 5 drops red (or to your liking). In the second, add 60 drops red dye, and 20 drops of yellow (or to your liking).
In another bowl, add 1 cup white granulated sugar.
Dip the entire cookie in yellow dye, and then parts of the cookie in the red. Immediately roll the cookie in sugar until completely coated and dry. Place on a cookie rack to continue drying.
Once all cookies are completed, place a sprig of mint in each one where the two cookies meet.
Enjoy!