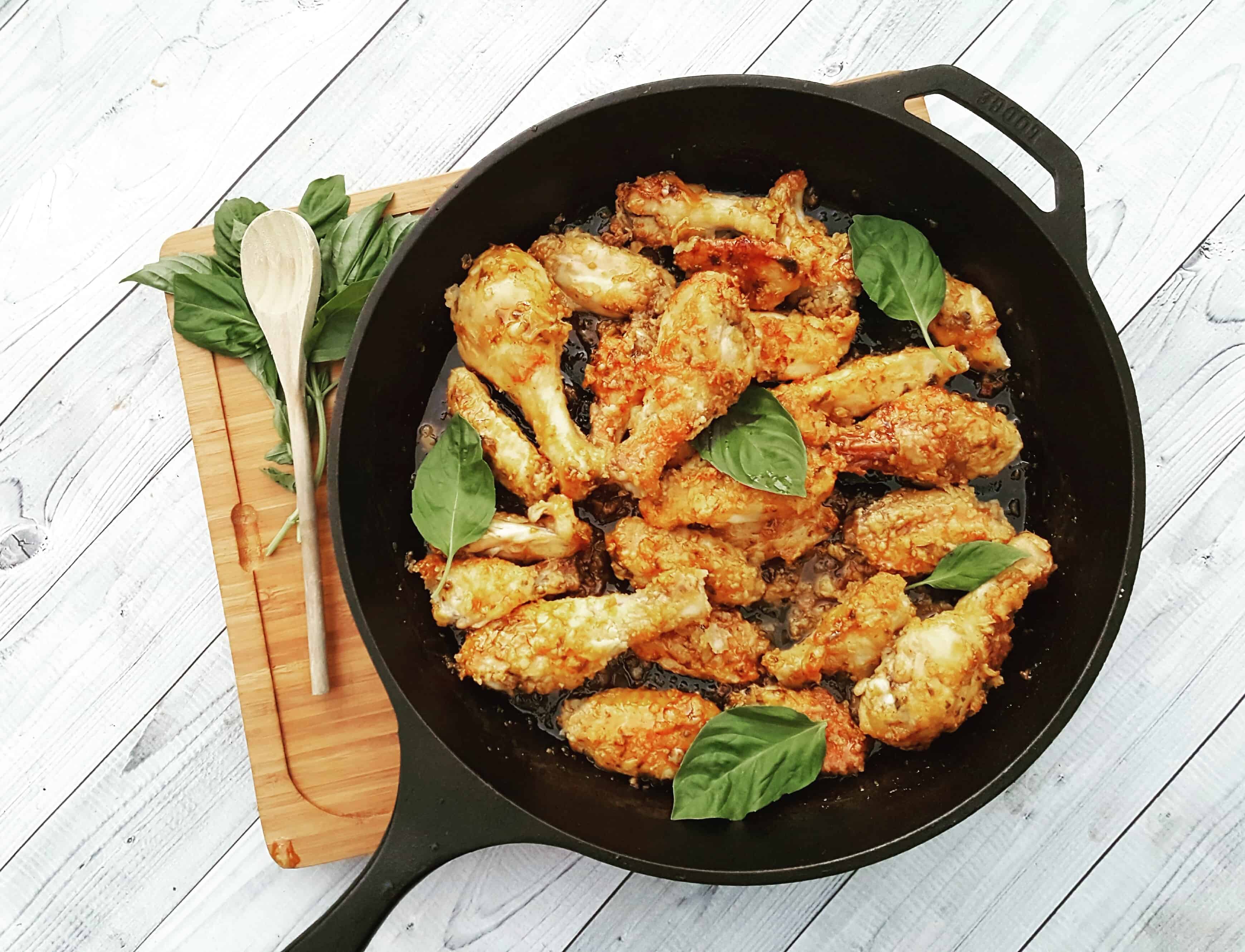 I've been craving wings like crazy, but I wanted something different. If you don't know by now, I am a very picky eater and will only eat exactly what I am in the mood for. I love my wings extremely crispy, and I don't always like the traditional BBQ sauce. I looked in my fridge, pulled out several random items, and miraculously it created a delicious glaze over tender chicken. I present: Sriracha-Basil-Chicken!
Please check out the recipe below!
Recipe:
Chicken:
4 lbs chicken legs and wings
1 cup heavy whipping cream
1 cup all purpose flour + 1 tsp salt
Sauce:
1 cup packed fresh basil
1/3 cup Sriracha sauce
4 tbs. honey
3/4  cup butter
1 tbs minced garlic
1/2 cup brown sugar
Juice of 2 medium lemons
1 tsp. salt
1 tsp. pepper
Directions:
Preheat the oven to 375 degrees.
Place all the drumsticks and wings in a large bowl and blot them dry with paper towels. Add the whipping cream and flour into separate dishes. Dip each piece individually into the whipping cream, and them roll in the flour. Place on a baking rack and complete the rest of the chicken.
Place the rack of chicken over a baking sheet to catch any oil. Bake at 375 until all chicken is cooked through and is browned.
While chicken is baking, start on the glaze.
In a food processor, blend well the basil, sriracha sauce, and honey.
Melt butter in a large cast iron pan over medium high heat. Add in the Sriracha mix and simmer. Add in the rest of the ingredients and lower head to medium low.
Once the chicken is browned to your desire, immediately add to the cast iron pan and mix gently until all of the chicken is lightly glazed.
If you have time, place the cast iron pan in the oven at 425 for 10-15 minutes so the glaze gets sticky. (I highly recommend this!)
Enjoy with your favorite side dishes!