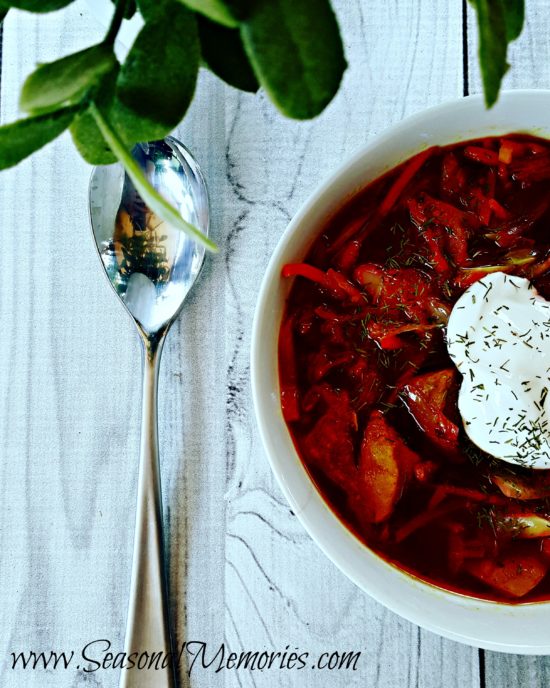 Finally! The rain and cooler weather is here. Which means, I get to throw on sweaters, listen to the rain, and make my favorite recipes. I spent the day cooking some of my husband's childhood favorites from Ukraine. The one he looks forward to most? Borscht!
Borscht is a very traditional soup, especially in Ukrainian and Russian cultures. You may have found out by now that we come from very different backgrounds and had completely opposite tastes when we first started dating. As time went on, we blended our tastes, background, and food together to live a very happy life. I took all of the traditional ingredients for Borscht, but I added a few of my own for a unique taste. Don't tell his mom, but he likes mine better now! 😉
Borscht is a great meal to make large quantities of because it keeps and reheats very well. In my house, we actually keep it on the stove for days because everyone will just nibble all day long. Please keep in mind, if you keep it one the stove like we do, it will loose the rich red color due to the constant heat.
Now, this will be a very long list of ingredients, but do not be scared off. 't really mess it up, it is really just a stew with many ingredients and seasonings. You can add and adjust the recipe to your taste. It will all be worth it in the end, I promise.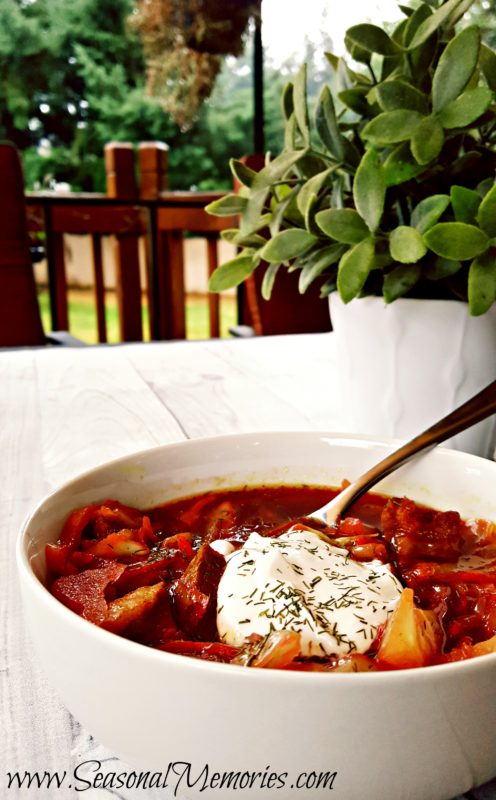 The Ingredients:
1/4 cup Oil
2 lbs. beef or pork chunks
2 large onions, diced
3 cups shredded or matchstick carrots (look for pre-cut packages at your local store, It's seriously worth it)
3 Tbs, minced garlic
Large head green cabbage, shredded
8-10 red potatoes cut in large chunks
3-4 Beets, peeled and shredded
12  cups Water
Seasonings:
Worcestershire Sauce (Lots of it!)
Better Than Bouillon beef stock
1/2 cup reeze dried garlic
1/2 cup onion flakes
1/4-1/3 cup cumin
1/2 cup yellow curry
2 Tbs. ground coriander seed
1/4 cup dill weed
1/2 Tbs. pepper
1/2 Tbs. salt
4 bay leaves
1 bulb fresh garlic
Directions:
-Alright, now that you've found all 100 of these ingredients, it's time to start cooking! You will want to get out one very large soup pot.
-Place the pot over medium high heat, and pour in the oil. Once the oil is hot, add in your meat. You will want to cook this until it is mostly done. Let it get browned on all sides.
-Once browned, add in the diced onions, garlic, and some Worcestershire sauce. Cook until the onions are soft. Add in the carrots and cook until soft.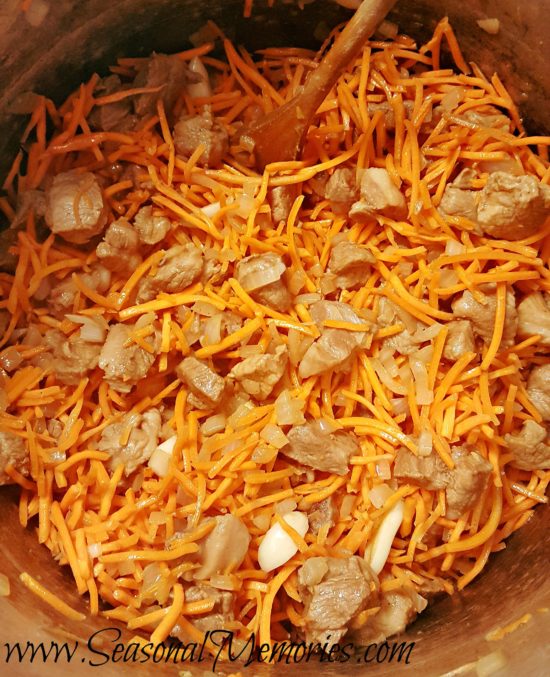 -Pour in the water. Add one cup of water first since the heat is still on medium high, and then add the rest.
-Once the water reaches a simmer, lower heat to medium and add in all seasonings (including more Worcestershire sauce to taste) except the bay leaves and bulb of garlic.
-Gently stir in the cabbage, potatoes, and beets. Place the bay leaves and garlic bulbs on top.  Lower heat to medium low and cover.
-Once everything is cooked through, serve with sour cream, fresh dill, and toasted french bread. Enjoy!