Weather seems to be one of the things that can make a vacation a great one, or ruin it all together. This is especially true when you're going on a vacation that takes place outside 99% of the time. In this case, I'm talking about Disneyland in the cold, pouring, rain.
The last trip my husband and I took was to Disneyland in December. For weeks I was watching the weather, seeing it go back and forth between warm and sunny, cloudy, and of course, rainy. The day we flew down, it was inevitable that we were going to be poured on the entire time. We didn't even touch down in California and I was already in a bad mood and complaining about how our trip was ruined. But, it wasn't. It's funny how this ended up being one of the best vacations we ever took!
The first two days there wasn't a cloud in the sky. I was thrilled thinking we dodged it all together. But on that third day, the rain was there, and it wasn't going to stop anytime soon. Here are the tips I have for having a good time in Disneyland while it's raining!
DO NOT buy ponchos in Disneyland. $20 for a flimsy piece of plastic? I don't think so! If you are taken off guard and suddenly have to shell out $80 for ponchos, you will already be in a bad mood. I suggest buying them at your hotel or a convenience store along Disneyland Way. My husband and I got these cool Star Wars ponchos for only $5 each!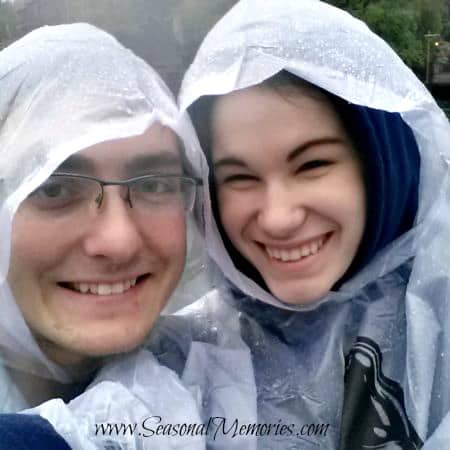 2. Pause for a hot chocolate from the Ghirardelli hot chocolate and a bowl of soup from  the Pacific Warfe Cafe under a canopy. Because warm food makes everything better. 😉
3. After your are warm and fueled back up, Head for all the rides you really want to go on. Everyone who didn't read this post will be afraid to get wet. But not you! This was the most fun my husband and I had. We were soaked to the bone in an absolute downpour, but  we went straight to the front of every line and didn't even have to get off of some of them. Walking around in California Adventure, we only saw a handful of other people and it was only 7pm! Once you are already wet, what do you have to lose?
4. When it rains, some of the parades will be cancelled. But don't worry, this means it will be replaced with a different show  or parade most people don't get to see. I've seen the "Paint the Night" parade a dozen times, it was great getting to see something new!
5. Try to wait it out if you really don't want to get wet. Commit to that really long wait time you didn't want to before that has most of the line indoors or under cover such as Indiana Jones or Space Mountain, watch the current show in the Aladdin Theatre, or go back to the hotel to rest for a bit. You don't have to be in the rain to have a good time while it's raining. 🙂
My biggest piece of advice though? Watch out for umbrellas, they will be everywhere!