Peanut Butter Blossom Christmas Cookies

Whenever I make these cookies, they remind me of my Great-Grandmother who recently passed. She was one of those grandmothers who would always have cookies and candy within arm's reach! Every year on Christmas Eve, the whole family would gather in her tiny home. Now, we are a large family, I'm not saying 10 people,there are 30 guests there at any given time throughout the night! Every Christmas Eve was the exact same. We would come over, eat deviled eggs, make a sandwich, and wait for the other relatives to come with the bean dip and potato salad. And the kids would sneak the Krumkake and Peanut Butter blossoms that grandma made the night before. It was a rhythm.  One that nobody knew how it would continue when she was gone…
This will be our first Christmas season without her… It will be hard, she was the glue for the family. All the distant relatives who would gather were a second cousin to an aunt (or something) and most haven't spoken since last Christmas. Whatever happens, and whoever will show up, we  know a few things. Of course, everyone is going to be invited to our house, there will be deviled eggs, and sandwiches, and peanut butter blossoms….
Here is the recipe for my favorite Christmas cookies: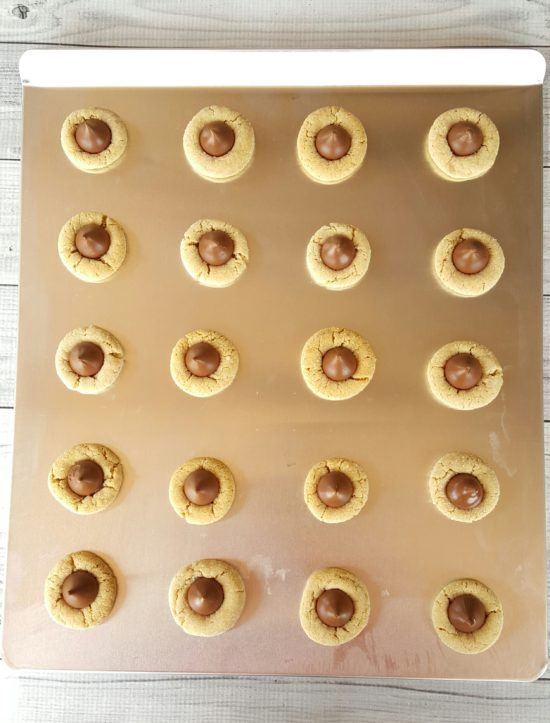 Ingredients:
-3/4 cup granulated sugar
-3/4 cup packed brown sugar
-1 cup creamy peanut butter
-1 cup salted butter, softened
-2 teaspoons vanilla

-2 eggs
-3 cups all-purpose flour
-1 1/2 teaspoons baking soda
-1 teaspoon baking powder
-Additional granulated sugar (about 2 tablespoons)
-About 7 dozen Hershey's Kisses
Directions:
-First, preheat the oven to 375
-Cream the butter and sugars together until well blended.
-Add in the vanilla and eggs, beat well.
-Next, add in the baking soda and baking powder. Add in the flour until all is incorporated.
-Then, roll the dough into tablespoon sized balls, and roll in the additional sugar.
-Place about an inch apart on a baking sheet and bake for 8 minutes.
-Meanwhile, unwrap your kisses so they're ready for the next step.
-Pull the cookies out, and quickly press a Hershey's Kiss into the center of each cookie. (Make sure to press down to the bottom)
-Place the cookies in the oven for an additional 2 minutes, and pull them out.
-Finally, place on a cookies on a cooling rack or the bottoms will get over done.
I recommend eating them warm while burning your fingers and mouth….. But, that's just me. 😉 Enjoy!
Note: After the cookies have cooled, the Kisses will maintain a soft texture.