Minty Chocolate Cookies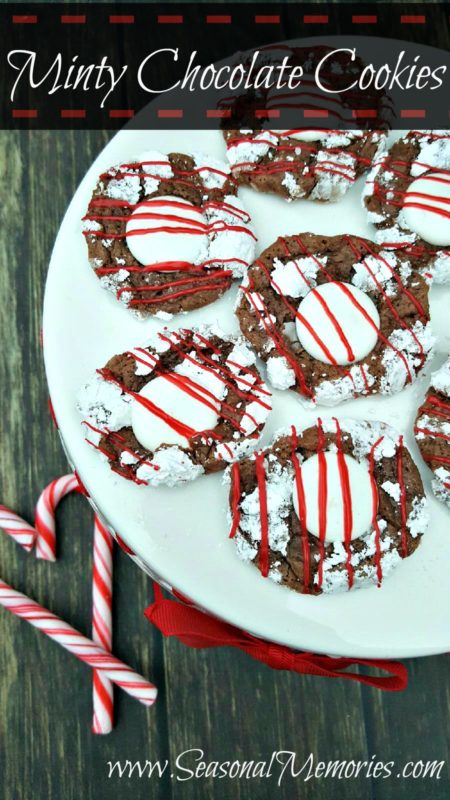 I love participating in holiday cookie exchanges, and Minty Chocolate Cookies is what I will be exchanging this year! Chocolate crinkle cookies with a peppermint white chocolate ganache. Now, try to keep your saliva in your mouth as you quickly scroll to the bottom of the page for the recipe. 😉
These Minty Chocolate Cookies were surprisingly easy to make and very quick to bust out. I was able to make eight dozen in less then an hour! These will be perfect to make in bulk during the holidays for family gatherings, exchanges, or to just have around the house. Beware: when they are just for "around the house", they won't be for long.
The Ingredients:
1/2 cup butter, melted

4 oz unsweetened baking chocolate, melted

2 cups sugar

2 teaspoons vanilla

4 eggs

2 cups flour

2 teaspoons baking powder

1/2 teaspoon salt

cup powdered sugar

First, in a large bowl, mix butter, chocolate, sugar and vanilla.

Stir in eggs, one at a time.

Stir in flour, baking powder and salt.

Cover; refrigerate at least 3 hours.

(this will help the cookies be more "crinkly")

Then, heat oven to 350°F. and g

rease a cookie sheet with cooking spray.

Drop dough by the spoonful into powdered sugar; roll around to coat.

Place about 2 inches apart on the cookie sheet.

Bake 10 to 12 minutes or until almost no imprint remains when touched lightly in center.

Immediately remove from cookie sheets to cooling racks or the bottoms will overcook.
6 oz white chocolate in small pieces
1/4 cup heavy cream
1/2 tsp vanilla extract
1/2 tsp peppermint extract
The Directions:
First, over low heat, melt the chocolate stirring frequently.

In another saucepan, heat the cream just until it is simmering.

Add the cream to the chocolate and whisk well.

Stir in vanilla and peppermint extracts.

Transfer to a piping bag or sandwich bag and pipe into the center of each cookie.

Drizzle with red decor chocolate if desired and enjoy your Minty Chocolate Cookies with some Hot Chocolate!
Related