I recently returned from a two week trip in Orlando, Florida allllllll the way from Portland, Oregon. There were several things I was not used to: heat, humidity, and the amount of water we would need to drink! Due to the heat and humidity alone, we spent quite a bit of time in the hotel room, and we got so hungry! And there was no way I'd be spending $5 for a bag of chips or $10 for a questionable sandwich in the hotel's convenience store.
Then, we saw another couple who was staying at the hotel walk to their room with several Amazon Prime Now bags… I was incredibly curious, so I looked it up and found out that with my Amazon Prime membership, I have FREE 2 hour delivery on select items! That was a complete game changer and a turning point for our trip.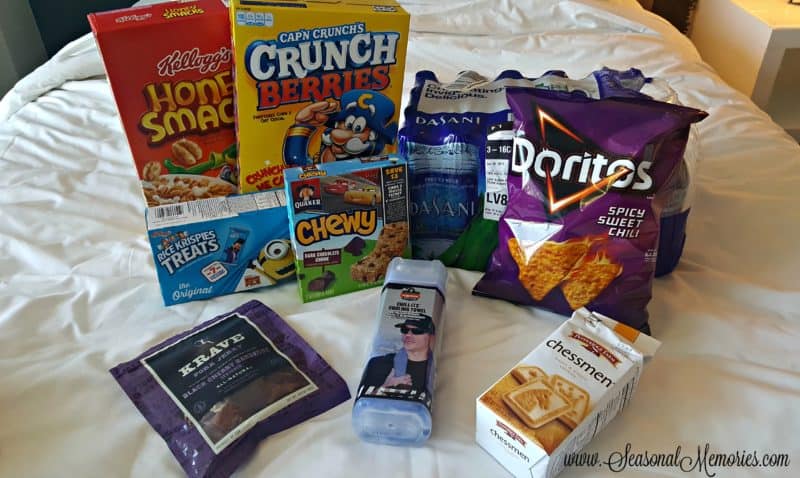 Well, now you get to see my weaknesses of Rice Krispies Treats and Honey Smacks 😉
I loved using Amazon Prime Now while traveling, because we were able to get some of these necessities without having to add them to checked bags, or pay obscene prices in the nearby convenience stores.
Some of my favorite items we ordered were:
-Lysol Disinfectant Spray: for the hotel room, bathroom, and floors.
-24 Pack Water Bottles: all theme parks were charging $3-$5 for EACH water bottle!
-Cooling Towel: this was perfect when we were at theme parks since we clearly underestimated the heat.
-Dairy Items: coming form people who will take six of those creamer cups in each coffee, it was great to have a full size container of creamer or half&half and milk for cereal.
The other thing I was super impressed with, is how they pack everything! Our perishables were in a refrigerator bag along with an ice pack, and every bag was labeled 1/3, 2/3, 3/3 so we would be sure to get everything we ordered! I cannot wait until Amazon Prime NOW becomes available in my small hometown area, it was the most convenient process. I will definitely be using it again when traveling!