I absolutely love seasonal fruits and berries, but by far, blackberries are my favorite.  My childhood summers were filled with  family trips to pick blackberries to make jar after jar of blackberry jelly.
Jelly was one of the biggest ordeals of the summer in my family since I can remember. It was quite the assembly line of family members in our tiny kitchen, any the whole house smelled incredible and sweet! But the part that made enduring the blackberry thorns worth it were the leftover blackberries that didn't make the cut.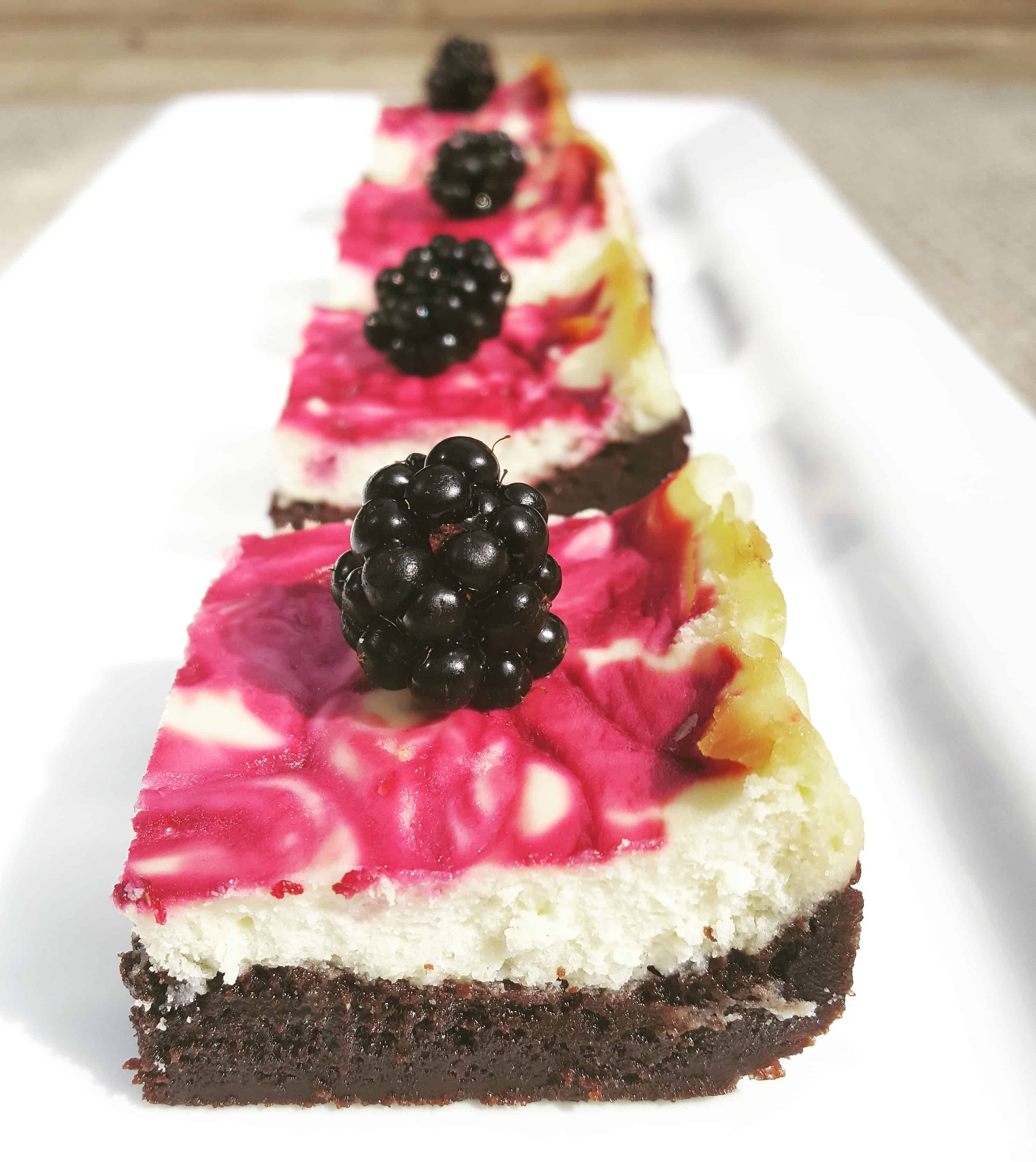 These are the ones we boiled with a little bit of sugar and water to make the sweetest syrup imaginable. This syrup would be drizzled over cheesecake topped brownies and cooked until perfectly golden. This is what reminds me the most of summer!
To create this delicious dessert, follow the recipe below!
Blackberry Syrup:
1 cup fresh blackberries
1/4 cup sugar
1/4 cup water
1 tsp. lemon juice
dash of ground cinnamon
Brownies:
3/4 cup butter, melted
1 1/2 cups sugar
2 large eggs
1 tbs. vanilla extract
1/2 tsp/ salt
3/4 cup flour
1/2 cup cocoa powder
Cheesecake:
8 ounce package softened cream cheese
1/4 cup Greek yogurt
1 large egg
1/4 cup sugar
1 tsp. Vanilla extract
1/2 tsp. salt
Directions:
-Preheat oven to 325 degrees.
-First, place all of the syrup ingredients in a small saucepan and set over medium high heat. Smash the blackberries so you get the most juice. Let it boil gently for about ten minutes. Strain through a fine mesh strainer and set aside to cool and thicken.
-For the brownies, melt the butter and pour into a mixing bowl. Add in the sugar and eggs and beat well. Add in the salt and vanilla. Carefully fold in the flour and cocoa powder being careful not to over mix.
-Choose any size pan you would like depending in how thick you want your bars and line with parchment paper. Lightly spray the parchment paper with cooking spray and evenly spread in the brownie batter.
-In a mixing bowl, add all of the cheesecake ingredients. Beat on high speed for 2-3 minutes until light and fluffy.
-Evenly spread over the brownie mix.
– Using a spoon, slowly drizzle the blackberry syrup over the cheesecake batter. You may not need all of the syrup, less is more if you want to create the cool designs. Using a fork or a knife, swirl the syrup into the batter being careful to only swirl the cheesecake, not the brownie mix.
-Bake at 325 degrees for 50 minutes to an hour (until the edges are browned).
-After it has slightly cooled, refrigerate for 2 hours up to overnight (I recommend overnight if you can wait, the cuts will be much cleaner and prettier!). Slice up and enjoy your summer!