Halloween is definitely a fan favorite holiday in my household. From pressing ALL of the haunted house buttons at the store to eating their weight in candy and cookies, it is easy to see why. And every year I curse myself for waiting until the last minute to find costumes. Sigh…. For once, just once, it would be nice not to trip over all of the open costumes on the floor and find something that is actually their size.
Well, this year was the year. All of the boys in my family are inflatable ostriches. Yes, we will have an entire flock of ostrich begging for candy on October 31st- most likely in the pouring Oregon rain (pictures to come).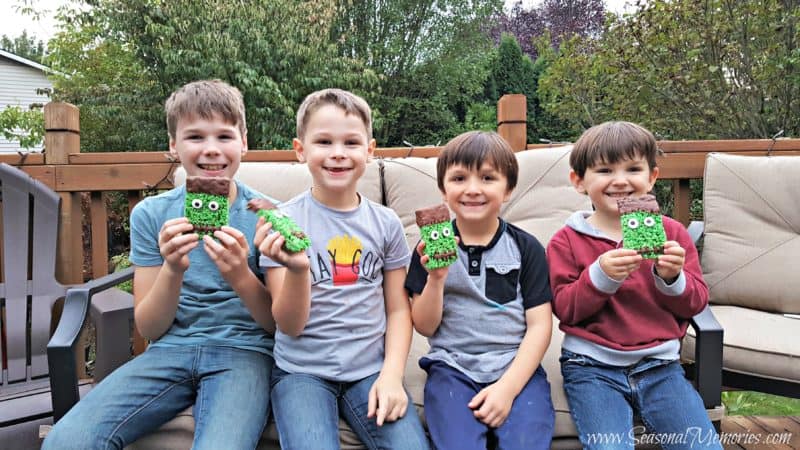 While we all love the day of Halloween, I love creating fun snacks and treats for the weeks leading up. The little ones run home and let me know how jealous their friends were of their Vampire Teeth Cookies or Graveyard Pudding. 😉
This week, we were all able to make a treat together- Frankenstein's Krispy Treats! These turned out ADORABLE and were so incredibly easy to make. I will definitely be making them again before the season is over. Learn how to make them below: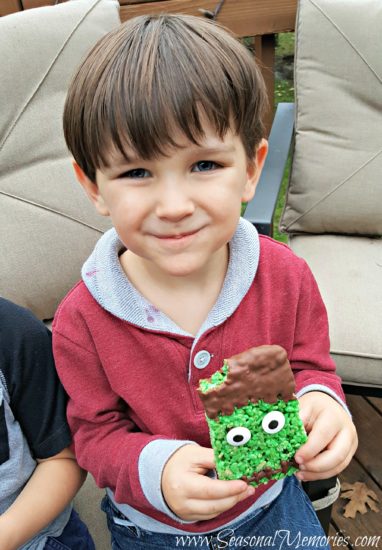 Frankenstein's Krispy Treats
The Ingredients:
2 Tbs. Butter
1 Package Mini Marshmallows
1 Box Rice Cereal
Green Food Coloring
Melting Chocolate
Candy Eyes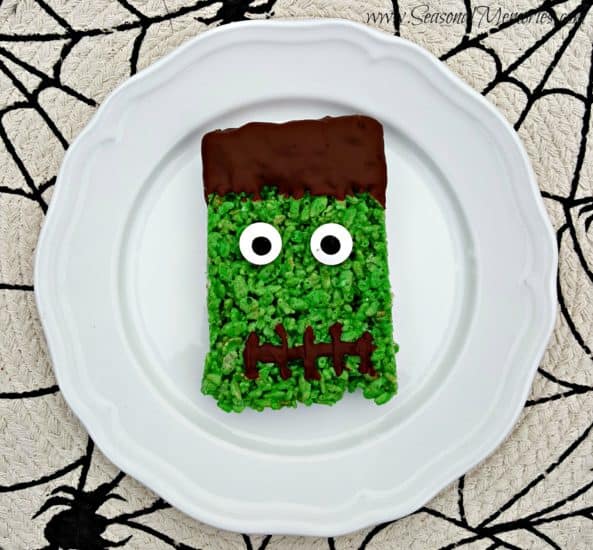 The Directions:
-In a microwave safe bowl, add your butter and marshmallows. Heat until the marshmallows are warm and puffy. Beat the marshmallow misture together until smooth and sticky- microwave longer if needed.
-Add in green food coloring until you reach the color of Frankenstein you desire.
-Immediately start mixing in the rice cereal, adding more until the consistency is to your liking.
-Cover a glass pan heavily with an oil spray, and add in your krispy treat mixture. Using a spatula sprayed with oil, press down firmly to flatten the treats.
-Place in the freezer for 20-30 minutes to cool and firm.
-Take out of the freezer and cut into rectangles- whatever size you would like.
-Heat your melting chocolate using the instructions on the packaging. Dip the top ¼ of your treat in chocolate, and place on a rack or parchment paper.
-Spoon the rest of your chocolate into a sandwich bag and snip off a small part of the corner. Use this to draw on the stitching of his mouth, and to secure the candy eyes.
-Let the chocolate firm, and serve!