Mini Lemon Tarts With Meringue

When life gives you lemons… make a tart! These mini lemon tarts with meringue are sure to impress. And I'll let you in on a secret; they weren't even that hard.
Over the weekend, I got a new toy- finally a butane torch! My first thought was to make a proper creme brulee, but I didn't have heavy cream and my shoes were already off (you know how that goes). BUT, I did have a ton of lemons and eggs. So, behold: my mini lemon tart with meringue recipe.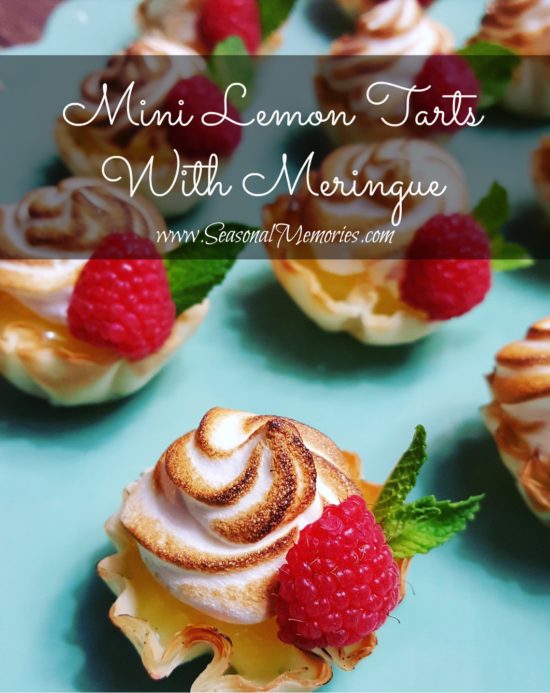 The Ingredients:
Tart Crust:
2cups all-purpose flour, sifted
1teaspoon salt
2⁄3 cup butter or 2⁄3 cup shortening
5 -7 tablespoons cold water
Lemon Curd:
1½ cups sugar
½ cup cornstarch
⅛ teaspoon salt
4 egg yolks (save the whites for the meringue!)
1¾ cups water
½ cup fresh lemon juice (from 3-4 lemons)
3 tablespoons butter
1 teaspoon fresh lemon zest
Meringue:
4 egg whites, room temprature
½ cup sugar
½ tsp. vanilla extract
The recipe:
For the crust: cut the butter into the flour. Add the salt and water and mix until the dough is formed.
Roll out thinly using flour, and shape the dough into mini muffin tins.
Bake at 375 until lightly browned on the edges, cool.
For the lemon curd: combine first three ingredients in saucepan and set aside.
Combine the egg yolks, water and juice, and stir into sugar mixture.
Cook over medium heat, stirring constantly until the mixture starts to boil and thicken.
Boil for one minute, stirring constantly and remove from heat.
Stir in butter and lemon zest, pour into the tart shells by the spoonful.
For the meringue: in a clean bowl, beat the egg whites with an electric mixer until foamy.
Slowly add in the sugar until the whites reach a soft peak, then add in the vanilla.
Once it reached a stiff peak, immediately transfer into a pastry bag with the tip of your choice and pipe onto the tarts.
Using a butane torch, lightly brown the meringue on all sides.
Garnish with berries and mint leaves if desired, and enjoy!