This post has been compensated by Bush's Beans. All opinions are mine alone. #BushsBeansFallFlavor
When the school year rolls around, I feel like I finally get into a routine again. I can focus on my work and schedule, keep the house clean, have delicious family meals ready at a decent time, and just be super productive. Buuuutttt….. Sometimes the bed is a little too comfy, sometimes that new show is finally on without kids home, and sometimes the sweatpants just need to be worn all day. That is why I always keep my pantry stocked with quick, healthy ingredients that can be easily incorporated into any recipe in a matter of minutes. My go to is Bush's Best Beans. I always have a dozen or so cans on hand from Walmart since beans are one of the few things everyone in my family agrees on when it comes to dinner ideas. And with so many varieties, no two recipes are alike.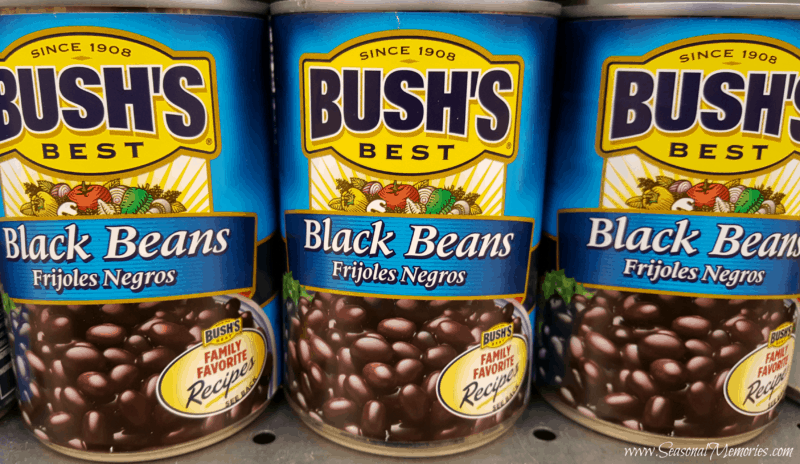 Last week, the recipe I tried out was Tex-Mex Sweet Potato Pancakes using Bush's Best Black Beans. It was so simple, and even though I hadn't gone shopping in over a week, I still had all of the ingredients- score! Not only were they simple to make, but they were filling, healthy, inexpensive to make, and by some miracle, everyone ate them without picking the entire meal apart. Since they were so simple and cheap to make, I made several batches and put the leftovers in the fridge. Just reheat the pancakes by frying them in a little bit of oil, and they will taste like you just shredded the potatoes.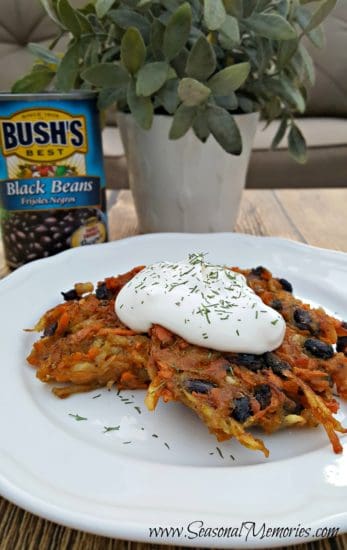 Tex-Mex Sweet Potato Pancakes
The Ingredients:
3 Medium Sweet Potatoes, shredded
3 Medium Russet Potatoes, shredded
1 Can Bush's Black Beans, drained and rinsed
2 Eggs, beaten
1/2 Cup Flour
1 Tbs. Taco Seasoning of your choice
1 tsp. Cumin
1/2 tsp. Curry
1/2 tsp. Dill
1/2 tsp. Salt
1/2 tsp. Pepper
Sour Cream, to top if desired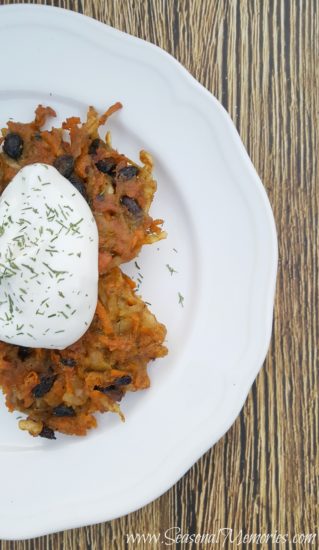 The Directions:
After you have shredded your potatoes, blot them with several paper towels in a large bowl- stiring to get all excess liquid out.
Add in your Black beans, and mix together until evenly distributed.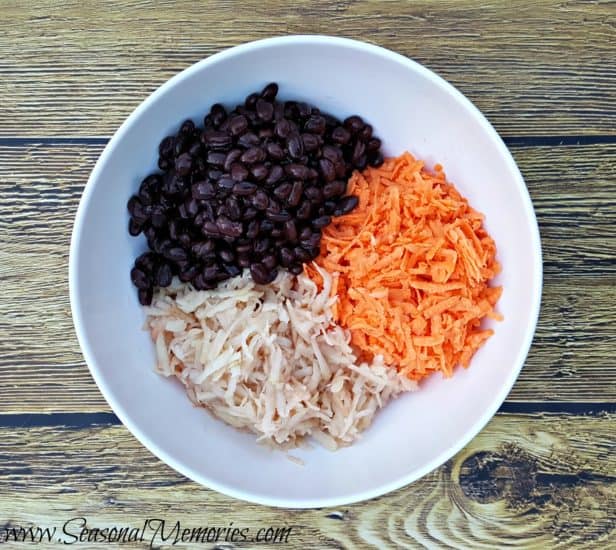 Stir in your beaten egg and mix until evenly coated.
Add in the flour and all of your seasonings.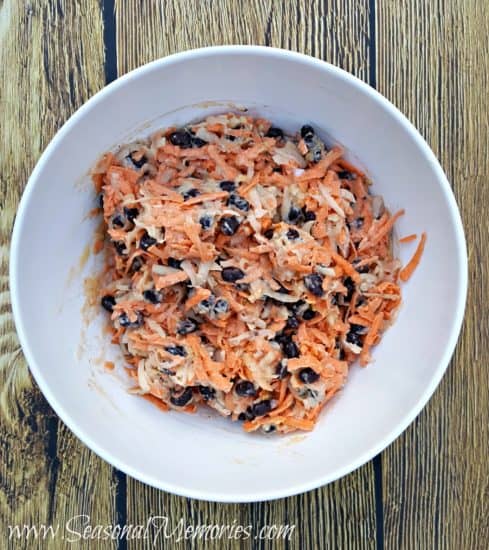 Over meduim-high heat, add 1/4 inch of oil to a frying pan.
When the oil is hot, place several heaping spoonfuls of the sweet potato mixture onto the frying pan and flatten thinly with a spatula.
Fry until golden brown on both sides flipping once. Place on a paper towel to remove excess oil, and serve immediately with your favorite toppings.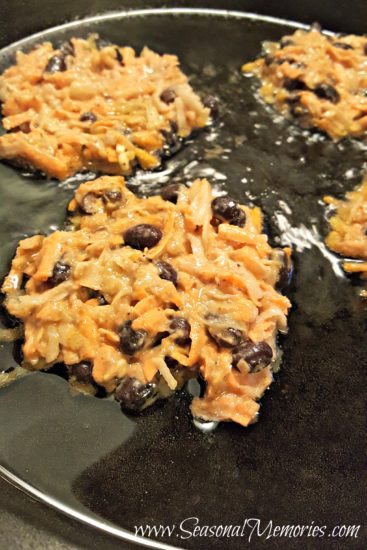 I have tried these with a couple of different toppings, my favorites are: Sour Cream, Salsa, Avocado, and really anything else you can imagine. Looking for another twist? Add your favorite shredded cheese into the sweet potato mixture before frying!