Valentine's Day is just around the corner! While everyone will be exchanging truffles or flowers, make sure you stand out and make a delicious treat yourself to show your love. These dark chocolate brownies sandwiched with a creamy white chocolate ganache are perfect whether you wrap them up to give, or have for dessert after a romantic meal. To make them extra festive, dye the ganache pink and use parchment paper and powdered sugar to create heart shapes on the top of the brownies. Snag the recipe below, happy Valentine's Day!
The Ingredients:
Brownies:
3/4 C Butter, melted

1 1/2 C Sugar

2 Eggs

1 T.bs. Vanilla Extract

1/2 tsp. Salt

3/4 C Flour

1/2 C Cocoa Powder
Ganache:
1 C White Chocolate Pieces

½ C Heavy Whipping Cream

1 tsp. Vanilla Extract

F

ood Coloring, optional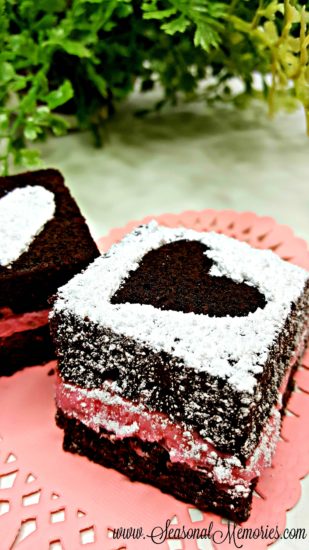 The Directions:
Melt the butter in a double boiler, or a mixing bowl in a small saucepan with water over medium heat.

Add in the sugar and eggs and beat well.

Add in the salt and vanilla.

Fold in the flour and cocoa powder being careful not to over mix.

Choose any size baking pan you would like depending on how thick you want your bars and line with parchment paper. Lightly spray the parchment paper with cooking spray and evenly spread in the brownie batter.

Bake at 325 for 45-50 minutes. You will want your brownies to be on the firm side since we will be slicing the whole pan in half.

Set your brownies aside to cool completely.

While your brownies are cooling, in a double boiler, melt your white chocolate until smooth.

In a small saucepan, bring the heavy cream to a low simmer.

Slowly add the cream to your white chocolate, whisking the whole time.

Add in the vanilla extract and food coloring if desired, and set aside to cool.

Once your brownies are completely cool, slice the entire brownie in half horizontally.

Add a thick layer of white chocolate ganache, and put the layers back together.

For a decorative look, use stencils or cut shapes out of parchment paper, place it on the brownie, and shake powdered sugar over the top.

Enjoy!